---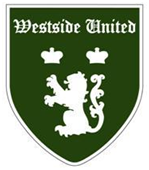 ERIC GREEN
In June, 2010, Eric Green was severely injured in a motor bike accident. The accident left him paralyzed from the chest down.
Eric played soccer for Brownsburg High School and he was a member of Westside United's '88 team. As a member of this team, Eric helped us win our first State Cup! Eric's brothers played for Westside United and his family was instrumental in our growth as a club. The Green family helped to build and maintain the gravel parking lot we now utilize at our Dan Jones Complex.
John Case recalls that while Eric Green was a tremendous athlete and soccer player in high school, he is also a wonderful person.
Eric's coach, Dustin Ottesen, remembers Eric as a great competitor who would do whatever it took to win. He absolutely hated to lose. He brought the highest levels of energy to every practice and game, with a work ethic to match. Eric was a player you wanted on your team—he made everyone else better, not only because of his willingness to work and push them, but because he thrived on pressure situations that tough games provided. His attitude became contagious, and the team would rise to meet his example. Off the field, Eric showed the same passion for life as he did on the field. This drive and their family's deep Faith has helped them through this life-changing event.
Eric is currently helping to coach in our Travel Program and we value his commitment to Westside United.
A scholarship fund has been set up in Eric's name. Each year we are hoping to add to this fund and award scholarships to families who demonstrate a need while exhibiting a love for the soccer, a commitment to our community, and the persistence to get the most out of every day, as Eric exemplifies on a daily basis.
---
BREANA "BRE" KATHRYN SPARKS
On April 25, 2014, Breana "Bre" Kathryn Sparks was called to heaven at the very young age of 18.
Bre enjoyed playing soccer and had played since the age of three at Westside United. While playing at Westside, she was a member of 3v3 teams and travel teams. Bre then went on to play soccer for Avon High School. It's always a great honor to have our players make a commitment to developing younger players and promoting soccer in our community. Bre served Westside well - She combined her love of children and her love of soccer by coaching for our Westside United Soccer Junior Academy.
Bre loved dogs and she volunteered her time at the Indianapolis Humane Society where she assisted with adoptions. She enjoyed music, movies, and hanging out with her friends and family. She was known for having a warm heart, a great sense of humor, and a beautiful contagious smile.
The Spark's family has been a huge supporter of Westside United from the beginning. Kyle Sparks played for Westside United and went on to have a fine soccer career at IU. Kyle currently coaches one of our boys travel teams. Brian Sparks was actively involved with the club coaching some of our teams. We treasure the loyalty of the Sparks family.
A memorial fund has been established in Bre Spark's honor. We will honor a player or players each year who demonstrate a financial need to be able to participate in playing soccer. The recipient(s) will exhibit a desire to learn and a commitment to Westside and their respective team. We will strive to honor a player(s) at the Junior Academy level or the younger age groups. Your donation will help us to financially assist current players in our program and allow them the opportunity to learn the game of soccer in a positive and encouraging environment. With every smile on the faces of these young soccer players, we will keep the memory of "Bre" near and dear to our hearts.
---
Ryan Douglas Spiegel
On November 11, 2005, Ryan Douglas Spiegel was called to heaven at the very young age of 18.
Ryan was very active in soccer and traveled across the country playing in tournaments with his 1988 Westside United team. Ryan helped this team win the first State Cup Champion for Westside United by scoring the winning goal in the championship game! And the Westside connection didn't end there. Ryan's parents strongly supported the Club and his Mom, Julie Spiegel, served as the second Club President.
Ryan was very athletic and enjoyed all sports and weight lifting. He loved skiing and snowboarding as well. Ryan enjoyed camping and boating and being on the lake with his friends. Ryan had a fabulous sense of humor and loved to make people laugh. He liked Adam Sandler movies and loved music, Mexican and Chinese food, and cooking. Ryan was a respectful and caring young man who loved his friends and treasured their loyalty. Most important, Ryan loved his family.
A memorial fund has been established in Ryan Spiegel's honor. We will honor a senior player each year who displays good character both on the soccer field an off the field. The recipient will be a quality student and a player who exhibits good sportsmanship and represents Westside United proudly within our community. Your donation will help us honor our current players as they continue their college and soccer careers and it will keep the memory of Ryan Spiegel near and dear to our hearts.